2006 Final Results
Congratulations to Kery Klingler and the crew of Lifted for winning the 19th Annual J-Jamboree and 2006 J/80 North American Championships! USA 352 was 2nd, FKA was third. Full results are now available.
The Lake Winnipesaukee Sailing Association Inc.'s J/80 Fleet 1 cordially invites you to participate in the 19th Annual J-Jamboree Regatta on Lake Winnipesaukee in New Hampshire. This fall's regatta is also designated as the 2006 J/80 North American Championship.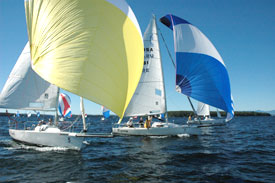 Racing will be on the main portion of Lake Winnipesaukee, about 1.5 miles from the regatta headquarters at Fay's Boat Yard. This three mile wide area, known as the Broads, provides 360 degrees of race course coverage. It is surrounded in the distance by the foothills of three mountain ranges, giving racers the added challenge of frequent wind shifts, not to mention some of the most beautiful racing backdrops anywhere.

Sign up here
to be notified of updates, changes and other news.
This long-standing event traditionally produces excellent winds, great race administration, lots of races, the famous Beer Truck, and an outstanding barbecue. This year's NAs promises no less!