2007 | 2006 | 2005 | 2004 | 2003 | 2002 | 2000 | 1999 | 1998
J/80's Show Well at the 1998 J-Jamboree North
By Bob Knowles - J/80 #52 "Pinocchio"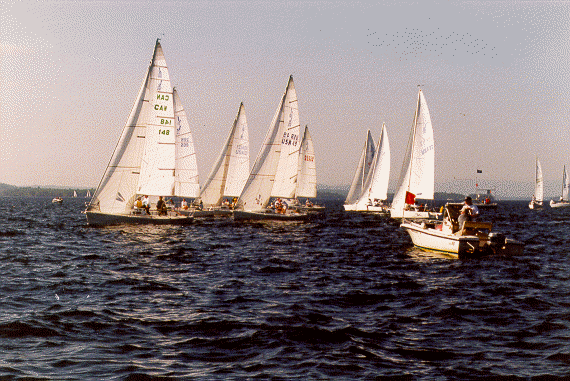 The Lake Winnipesaukee Sailing Association, Inc.'s (LWSA) eleventh annual J-Jamboree North Regatta was held on Lake Winnipesaukee in New Hampshire on the September 19th & 20th weekend. The participation of 3-J/22's, 12-J/24's, and a record 11 -J/80's made the event a great success.
All boats were in the water and ready to go by early Friday evening. Saturday morning arrived with a light breeze from the east with enough velocity to run two light air races, the second of which produced close to a 180 degree wind shift around toward the west. The race committee did a great job resetting the course and got off three additional races that afternoon in a southwest breeze of about 10 knots. Four different yachts enjoyed "bullets" over Saturday's five races proving to many that shifty lake breezes can humble anyone.
Sunday saw a typical summer lake condition set in even though it was almost the first day of autumn. There was little breeze. After a rather lengthy float out on the course, the race committee moved the fleet to a small pocket of wind, started a race, and then justifiably canceled racing when conditions again went calm.
Local sailor, Mike Weisberg on Zero Charisma (#205), showing consistency with no worse than a fourth over the five race Regatta, took first place followed by second place Gregg Morash's Adrenaline (#99) and third place finisher Martin Kald with Monster Lady (#63). These two boats missed creating a real dog fight for first place by each having one "back in the pack" finish to add into their otherwise top finishes.
In addition to five of the Lake Winnipesaukee's J/80 fleet being on the starting line for the J-Jamboree, six visiting yachts from Rhode Island, Vermont, New York, and Quebec, Canada rounded out a record showing of J/80's. The enthusiasm shown by all skippers and their crews bodes well for an even bigger and better J/80 participation next year.
This fall regatta's reputation for producing excellent winds did not materialize but great race administration, a full day of quick racing, the famous Beer Truck, and an outstanding barbecue earned rave reviews from most of the visiting road warriors.
Results
| | | | | | | | | | |
| --- | --- | --- | --- | --- | --- | --- | --- | --- | --- |
| Sail# | Boat Name | Skipper | 1 | 2 | 3 | 4 | 5 | Total | Place |
| 205 | Zero Charisma | Mike Weisberg | 2 | 1 | 4 | 4 | 3 | 14 | 1 |
| 99 | Adrenaline | Gregg Morash | 4 | 8 | 1 | 3 | 2 | 18 | 2 |
| 63 | Monster Lady | Martin Kald | 3 | 4 | 3 | 2 | 8* | 20 | 3 |
| 121 | Knockout | Matt Fisher | 1 | 5 | 6 | 10 | 1 | 23 | 4 |
| 52 | Pinocchio | Bob Knowles | 6 | 2 | 10 | 1 | 6* | 25 | 5 |
| 49 | Phantom | Rob Carr | 7 | 7 | 2 | 5 | 4 | 25 | 6 |
| 83254 | Moosetaken Identity | Marty Olsen | 8 | 6 | 5 | 6 | 5 | 30 | 7 |
| 148 | Fast Company | Paul Baehr | 10 | 3 | 8* | 7 | 10 | 38 | 8 |
| 175 | Over the Edge` | Tom Scott | 5 | 9 | 9 | 8 | 9 | 40 | 9 |
| 82 | Blues Power | Bob Lemaire | 9 | 10 | 7 | 9 | 0 | 42 | 10 |
| 154 | La Vela | Bruno Boik | 11 | dnc | dnc | dnc | dnc | 59 | 11 |